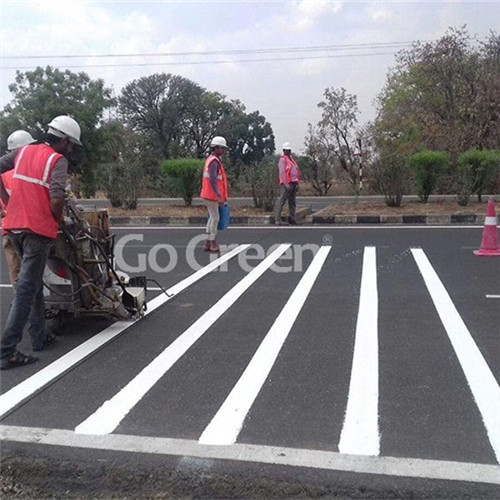 Trade Information
Telegraphic Transfer (T/T)

All India
Product Description
Go Green thermoplastic reflective marking paint is a kind of paint applied on the road to make the road marking. Its mainly consist of petroleum resin, EVA, PE wax, pigment fillers materials, its powder state in normal temperature, need to heat in hot-melt kettle to 180-200℃, keep heat preservation while stirring for 3-5 minutes, then apply on pavement to form a solid coating. It has the characteristics of full linearity and strong wear resistance, during construction, spread reflective beads (dosage 18-25%) on the surface, it has good reflective effect at night. Thermoplastic reflective marking paint is widely applied on highway, city street etc. Common used standards are National Standard, British Standard and American Standard.
Product Characters
1. Strong Adhesion
The resin content is reasonable, special rubber elastomer is added to the base oil, super strong adhesion to ensure the construction is good without obscission
2. Good Anti-cracking
Hot-melt marking is prone to crack because of temperature difference. Add enough EVA resin to coatings to prevent cracking.
3. Bright Color
Using top-grade coated pigments with reasonable proportion and good weather resistance, won't change color under long-term sun exposure
4. High Coating Rate
Small density, large volume and high coating rate are our product main characteristics
5. Good Anti-fouling
The PE wax quality and dosage are the key factors to affect the anti-fouling performance. Exxon PE wax is the our preferred product for many years.
Technical Data
Product Index
| | |
| --- | --- |
| Name | Thermoplastic Reflective Marking Paint |
| Package | 25kg |
| Application Range | Various traffic road, airport, terminals etc places |
| Quality Standard | ISO9001 JT/T280-2004 |
| Heating Temperature | 180-220℃ |
| Available Color | White, Yellow, Blue, Red etc |
| Production Capacity | 60000 Tons |
| Product Performance | Strong adhesion, bright colour, anti-fouling, anti-cracking, high coating rate |
Dosage
| | | | | |
| --- | --- | --- | --- | --- |
| Powder Weight | Coating Thickness | Coating Area | Primer Dosage | Beads Dosage |
| 1T | 1.8mm | 225 | 32kg | 100kg |
Application
Attention
1. Ensure the pavement is dry and clean, if raining, after 4 hours sun exposure then start the construction, temperature should be above 0℃
2. Heaing the powder to 180-200℃, after melting, it should be stirred uniformly and keep 3-5 minutes before discharging. Once the coatings are ready, it should be apply on road immediately to avoid small fires keeping warm for a long time, that will cause precipitates.
3. The base oil should be treated sufficiently, after the base oil is completely dry then spread the marking paint.
4. For the new built concrete pavement, the construction should be delayed for three months or the bottom oil treatment should be carried out twice, otherwise the marking line will fall off easily.
5. For the high traffic flow section, protect the area after coating the base oil to avoid any vehicles passing by.
Construction
1. Clean the road: firstly remove the road surface debris, use road wind power cleaner to clean road surface to meet the road marking construction requirements.
2. Construction lofting: within the construction scope, survey and measure the road line according to construction drawings and technical requirement to control the standard. After complete the lofting, doing the preliminary inspection, once its qualified, then process to next working procedure.
3. Using high pressure airless spraying equipment to spray the primer coating, then spray the thermoplastic road marking paint, at the same time, spread the glass beads, ensure the painting line is smooth, straight, beautiful, uniformly thickness, good reflective function etc standard.
4. Ending Work: Place warning signs to prevent cars and pedestrians from rolling the constructed markings. The road marking project routeline is long, although the drying time is soon about three minutes, but it is easy to be disturbed by other construction units, so the protection should be strengthened in construction. Vehicles should not be allowed to pass before completely drying.
Package
Product Name
Photo
Description
Container Loading
Thermoplastic Marking Paint

Go Green thermoplastic reflective marking paint is a kind of paint applied on the road to make the road marking.

Its mainly consist of petroleum resin, EVA, PE wax, pigment fillers materials

25kg/bag, a 20ft container load 25 tons
GO GREEN INDUSTRIAL (SHANGHAI) CO., LTD